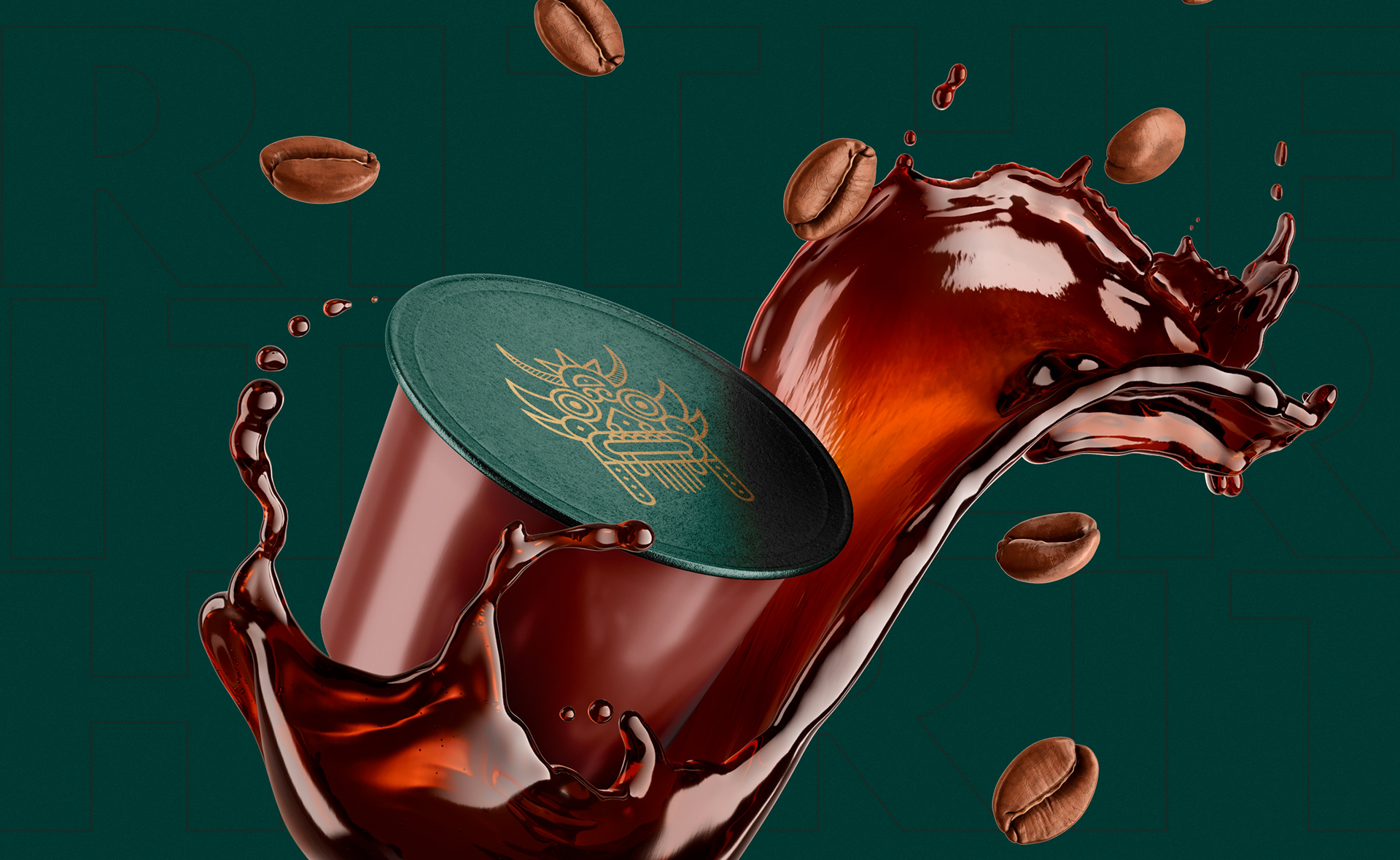 Project: Branding and packaging
Rithe is a coffee brand from Saudi Arabia inspired by Barong, a character in Bali's mythology. Barong is representative of the forces of good and protector of humanity and this meaning was implemented by its founders as an inspiration for coffee.
Barong masks are iconic and memorable, full of color, strong and saturated tones with big eyes, and with these characteristics we seek to implement in the creation of a unique symbol, with not very fine lines because reproduction and application on smaller surfaces would be a problem. The typography was designed to represent the strength of coffee and culture, a strong and striking typography, luxurious and impressive, modern and sans serifs.
Rithe, now, becomes a coffee shop and goes beyond selling coffee beans and starts connecting daily with the brand's fans through a special service, just like the production of its coffees. The project's look resulted in luxurious and sophisticated tones, as the brief requested, an iconic, memorable, solid, sober and very luxurious brand. 
Thank you for enjoying the project, I hope you like it.
_____________________________________________________________________________________________________
Rithe é uma marca de café da Arábia Saudita inspirada em Barong, personagem da mitologia de Bali. 
Barong é representante das forças do bem e protetor da humanidade e este significado foi implementado por seus fundadores como inspiração para o café.
As máscaras Barong são icônicas e memoráveis, cheias de cor, tons fortes e saturados com olhos grandes, e com essas características buscamos implementar na criação de um símbolo único, com traços não muito finos pois a reprodução e aplicação da marca em superfícies menores seria um problema. 
A tipografia foi pensada para representar a força do café e também da cultura, uma tipografia forte e marcante, luxuosa e impactante, moderna e sem serifas.
Rithe, agora, passa a ser uma cafeteria e vai além de vender cafés em grãos e passa a se conectar diariamente com os fãs da marca através de um atendimento especial, assim como é a produção de seus cafés. O visual do projeto resultou em tons luxuosos e sofisticados, como o briefing pedia, uma marca icônica, memorável, sólida, sóbria e muito luxuosa. 
Obrigado por apreciar o projeto, espero que goste.